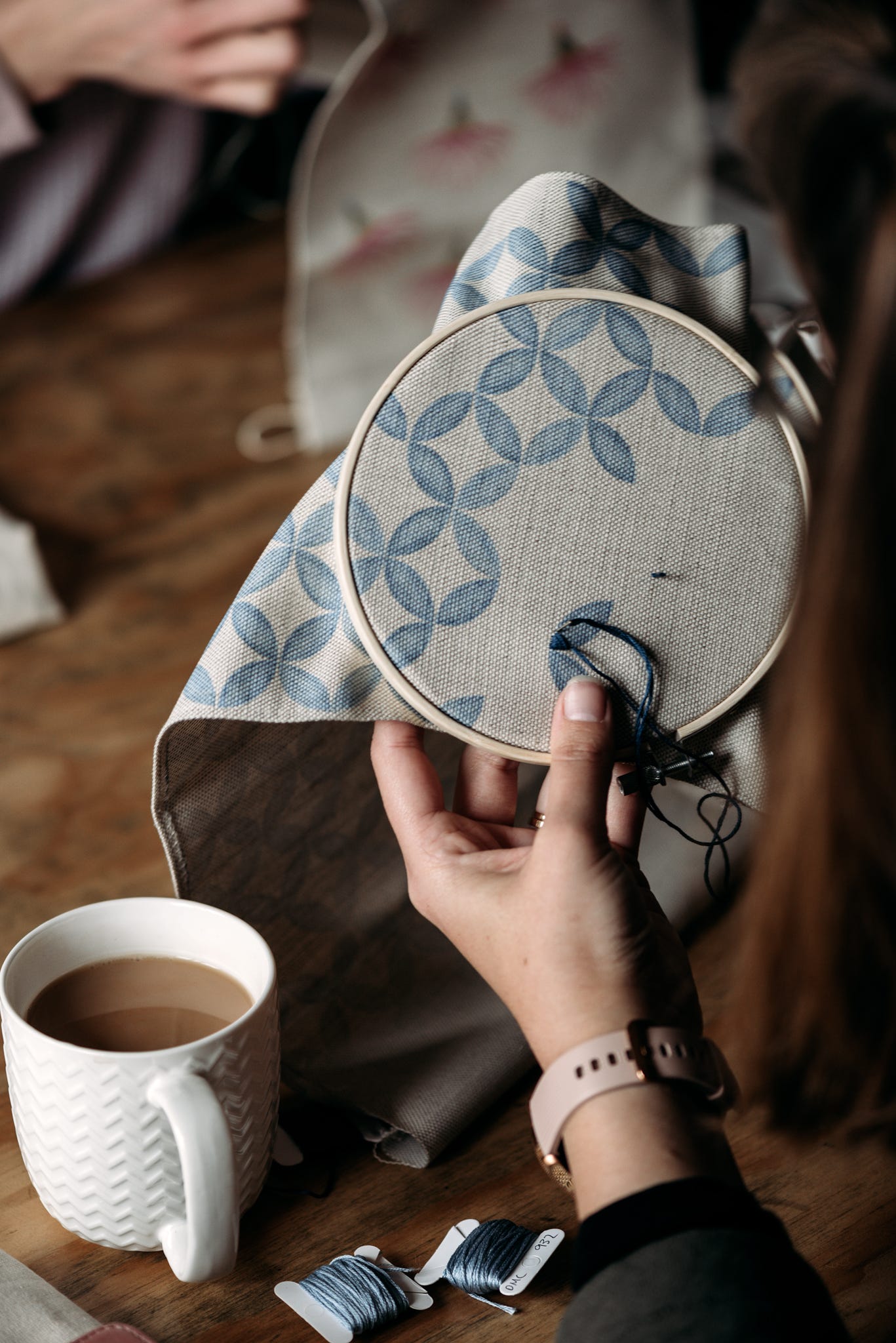 HOLD COTTAGE
WORKSHOP
SUNDAY 31 OCTOBER 10:30 - 11:10am

TICKET DEADLINE: 17 OCTOBER

Suitable for Beginners

An online embroidery and weaving wall hanging workshop being held as part of the Gunning Arts Festival 2021.


About this event
Clare launched her textile design business while on maternity leave in the UK in 2017 and brought it to Australia in late 2018, where she now runs it from her home in Canberra.


At this workshop, Clare will be teaching some of her favourite embroidery and weaving techniques to decorate and personalise your very own wall hanging. Clare will be provide a comprehensive kit, which will include a piece of fabric (55cm x 22cm) featuring one of her printed textile designs ready to be made into a wall hanging. You will also receive an embroidery hoop and needle, dowel and string for hanging at home, a printed booklet with instructions and a project bag to keep it all in.


HOW WILL IT WORK
Our workshop is scheduled to go live via Zoom on Sunday 31 October from 10.30am – 11.10am (you will receive the link to the Zoom via email after you purchase your ticket below). Within your kit there will be some little videos to support the workbook. In preparation for the live workshop, we recommend you run through the workbook and videos. If you are feeling keen and confident, you can even make a start on your piece ahead of the workshop. But it's totally fine if not! Clare will run through how to get set up and started with your first stitches so you can then continue at your own pace. Clare will then be available for any questions you might have to keep going.


We'd like to try and create a similar experience to what you would get in person at one of our workshops at Hold Cottage. So along with your embroidery kit, you will also be receiving a morning tea box from Hold Cottage. We will be sending you everything you need to bake a delicious brownie and brew the perfect pot of tea. Bake your morning tea ahead of the workshop and have a cuppa ready to go as you join us in Gunning at this online workshop via the Gunning Arts Festival program.


Some extras you might need on hand to ensure the workshop runs smoothly are scissors, pencils, fabric markers, measuring tape and threaders. Once you have booked your ticket, we will be in contact as we'd like you to choose your fabric so Clare can pack it into your kit.


INCLUSIONS
A MORNING TEA BOX FROM HOLD COTTAGE

A FULLY GUIDED, ONLINE EMBROIDERARY AND WEAVING SESSION

ALL MATERIALS TO CREATE YOUR OWN WALL HANGING

A LITTLE THANK YOU GIFT


PLEASE NOTE
Due to postage delays, our ticket deadline is Sunday 17 October to ensure your kit arrives in time for the workshop.

TICKETS $138